Tailored

International Fulfillment
Super fast and super simple. Use our existing international high-performance logistic operations to ensure great customer experiences. We cover all key processes from inbound, storage, shipment with local last-mile carriers to returns.
Branded experience
Individualized fulfillment based on best practices.
Make your shopping offer seamless by customizing our established fulfillment services to your brand feel, e.g., with branded delivery documents. Make a statement with ecologically friendly delivery boxes.
Localized experience
Offer preferred deliveries with local champs.
We collaborate with local carriers your customers trust and deliver to different locations, e.g., home or parcel points. While our existing contracts with local carriers across Europe ensure quick onboarding, direct line hauls, and fast deliveries, we continue to globally extend our strong network.
Combining full service with state-of-the-art operations
E2E Handling

We take care of all national and international fulfillment processes. End to end. Step by step.

Scalable Processes

All our fulfillment operations are growth-enabled and based on our best-practice solutions.

Continuous Optimization

Our services are kept in line with current market developments and steadily improved.
Exploit synergies
Centralize your stock management.
Storing all your stocks in SCAYLE's warehouses allows you to internationally sell your whole assortment in your shops as well as on ABOUT YOU and other marketplaces. Seamless integrations enable easy availability steering, higher turnovers, and reduced inventory costs.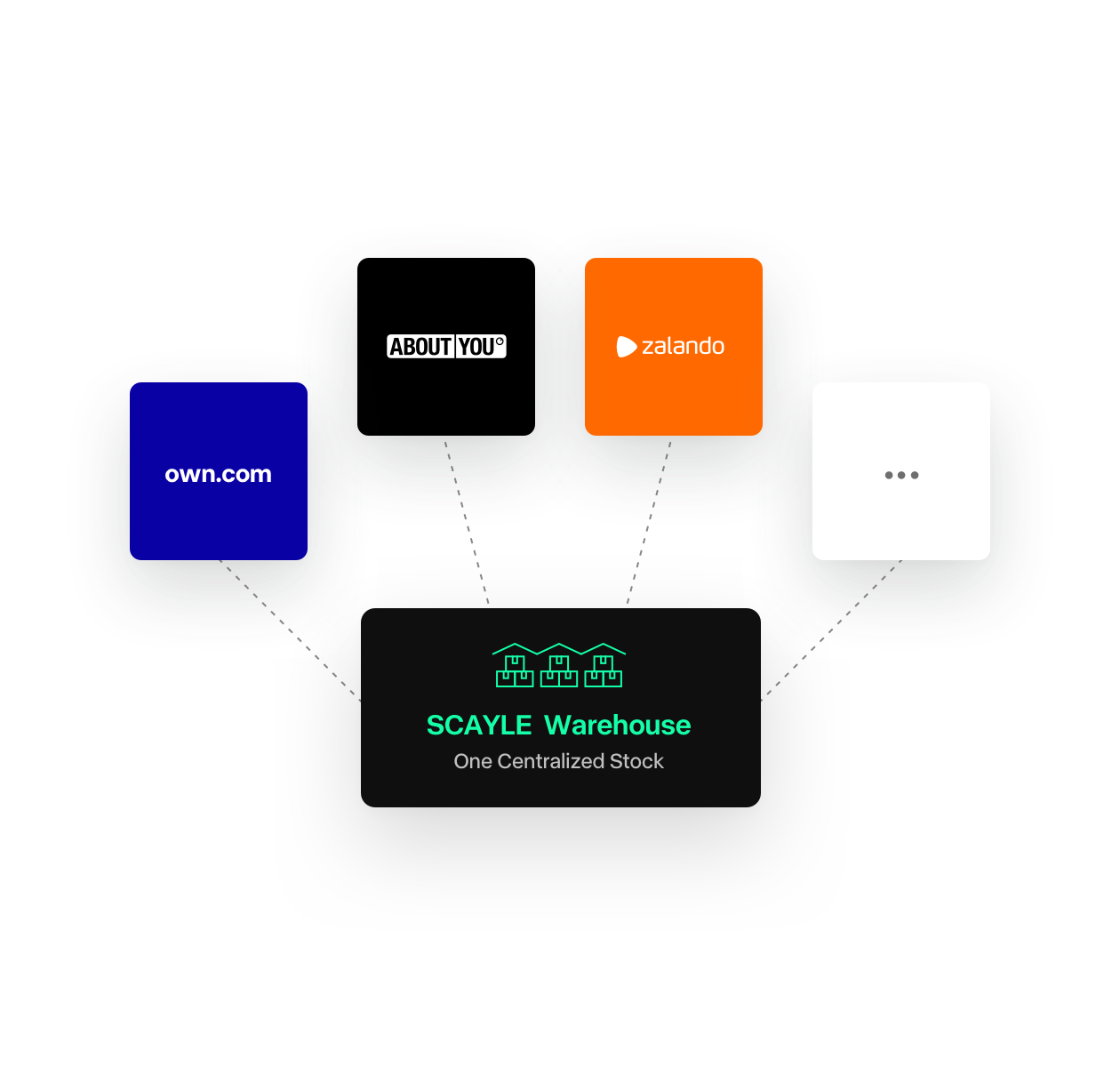 Get the full picture with standardized daily reports
Daily Reporting

We ensure you're always up-to-date by providing daily reports for all operations.

Tailored Insights

All reports are customized for your case and adapted to your brand's needs.

Detailed Information

Enjoy 100% transparency – including how goods are moved in our warehouses.
Speeding up internationalization
Our customer The Founded fast forwarded its internationalization by integrating our existing fulfillment structures. This way, it benefitted from offering country-specific delivery options to its customers while keeping its brand feel seamless, e.g., with branded delivery notes.
"SCAYLE enhances our growth pace as a brand. Internationally and perfectly tailored to our target group."
Dalbir Bains, Managing Director, Braveheart